Scottish Conservatives leader Ruth Davidson announced on Thursday that she is three months pregnant.
The announcement was made on Twitter, where Ms Davidson expressed her and partner Jen Wilson's "excitement" over their baby news following IVF treatment. Ms Davidson also spoke of "ups and downs" while trying to conceieve, but a successful round of IVF in March means that the MSP for Edinburgh Central is due to give birth in October.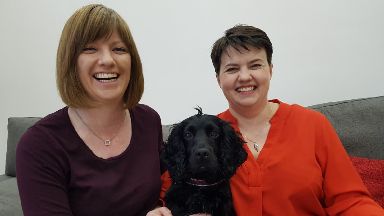 While on maternity leave, the Scottish Conservatives' deputy leader Jackson Carlaw will fill in. Speaking about her maternity leave, Ms Davidson said it is something "thousands of working women do every year" and that she will be "returning to work shortly after [the birth]".
It is yet another news story about a baby this week, following the Duchess of Cambridge's birth to a baby boy on Tuesday, but it is one that certainly reflects the utter brilliance of modern Britain.
Following her name appearing on Time Magazine's list of the world's most influential people, the 39-year-old also spoke about being a pregnant woman in politics: "It does require organisation to do both, you can't have all of the time in all of the world, but you can have a family and combine that with a career, and I don't think we should ever send a message to women that they can't have both."
We wish Ms Davidson and Ms Wilson the very best.