4/5
In a world where we're talking about everything apart from the things we should be talking about, Channel 4's new documentary, The Sex Robots are Coming, is a breath of fresh air. I'd say it was relieving someone's talking about it, but, actually, the documentary is quite scary.
The prospect of artificial intelligence is frightening – especially when you realise it already plays a part in your everyday life. If you have an iPhone, Siri is your bit of AI. If you use Google, the whole bloody thing is AI. However, the prospect of AI having sex with your husband is a little bit scarier than Siri typing a text message for you.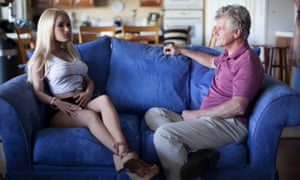 And here we have the focus of The Sex Robots are Coming. There is a widening market for men who want to have sex with what they call the "ideal" woman. Some of these men are single and alone, as one would imagine. However, most in Channel 4's new documentary are actually married and, in the case of James. He has three sex dolls, his favourite looks shockingly like a minor and his wife, who, despite what she says, looks incredibly disappointed in him.
People like James – married with a home – are not who you'd expect in terms of a sex robot market. And it's sad that they are part of it, ditching their wives for AI and sometimes, as James does, struggles to choose between which he loves more.
The Sex Robots are Coming explores a brand new era of humanity's relationship with technology – and one that is becoming increasingly realistic. Harmony, the robot currently being developed during filming, will seduce a man if he so desires and will, obviously, do exactly as he says. She is designed to respond to men positively and to have sex with them too. She can talk, laugh and pretend to like you. She's just paralysed and can't walk. While the man can choose a 'personality' for his bit of plastic, the robot is ultimately something he will carry out his sexual desires with. Hence the problem many people have with robot sex dolls. Thankfully, C4 explores that too.